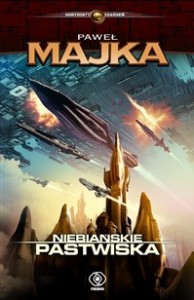 Pawła Majkę znałem jeszcze z facebooka. Już tam wydał mi się przesympatyczną osobą. Dopiero bliżej dał  się poznać na panelach festiwalu fantastyki Nidzica 2016. To tam w rozmowie o moich podróżnych planach  – z jego inicjatywy, a ku mojej radości postanowiliśmy raz jeszcze  w polskim plenerze się spotkać. Wybór padł na jeden z celów mojej sentymentalnej podróży do Polski, a jego rodzinne miasto  – Kraków. Pisarz sprawił na mnie ogromne wrażenie, a jego przychylność i  sympatia do mojej osoby wydawała się być nieograniczoną.Stąd musiałęm zamieśić w tym właśnie miejscu fotograficzną relację z naszej wspólnej przechadzki po krakowskim Kazimierzu. Bowiem było to niezmiernie emocjonujące, inspiracyjne dla mnie spotkanie, którego nie zapomnę bodaj do śmierci …  – skradłęm blisko trzy godziny z jego pisarskiego życia.
Tu spędziliśmy czas na rozmowie. Urocze miejsce.
Sławna ławka Łukasza Orbitowskiego.